I've not really felt myself last weekend, maybe it explains why all I have really wanted to do is sleep while my hand (which has the rash I get as my body's attempt to make me admit that I feel absolutely rubbish) has driven me up the wall again. I get this rash every time I get some kind of infection that affects me on a systemic level, its something I have been getting since my teens. It usually starts with some small hives which then progresses to tiny fluid filled blisters. Usually the best thing for them is a hefty dose of every antihistamine I have access to (usually a cocktail of Hydroxicine (which I usually avoid during the day as it conks me out), loratadine and citirizine) and obviously treating the underlying infection. I have been struggling to shake this thing off completely since the middle of last month after 6 months of one infection that refused to budge and landed me in hospital more times than I care to mention.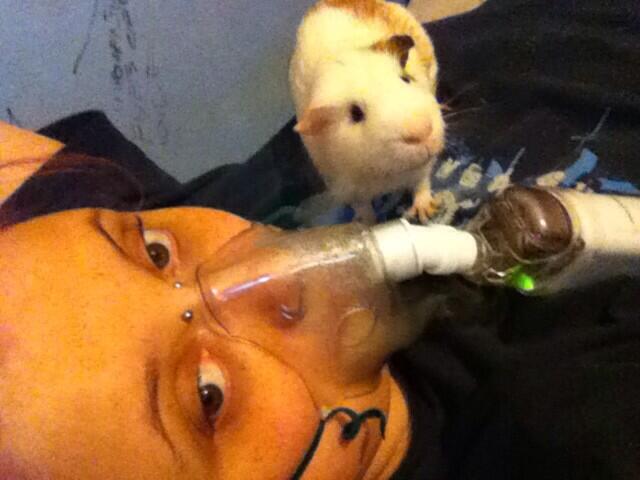 I hate it because usually, I get about a month of being alright without any infections driving me up the wall then something else always seems to manage to find it's way in. This has not been helped by the general public's habit of not covering mouths when they cough or sneeze (seriously it's like no one has ever heard of the old adage of "Coughs and sneezes spread diseases") and the fact that my immune system is up there with dragons and pixies in the list of mythical things because of the constant need for oral steroids and my lungs being the weakest part of my body. I'd be lying if I say that I don't find this kind of thing frustrating but I think that I have always preferred the "Shit happens, deal with it" approach. I think that it helps when even your pets come to see that everything is alright (this is why we love Kibou, hes a sensitive little soul really) and comes to give some much needed snuggles. They really do take the monotony away and make the day seem better.
I aim to spend the next few days putting some new music on my iPod, watching some films and maybe even some of my favourite anime series. Right now I am getting back in to Full Metal Alchemist which is one anime I could watch and watch again. It is a sad story of two brothers who lost their mother and tried to resurrect her with the science of alchemy, but forgetting the most important rule, nothing can be gained without having to give something up in return. To the elder brother, Edward, he finds out the hard way that alchemy can cost you an arm and a leg and he wants to do what he can to get his lost limbs back by trying to seek out the legendary Philosophers Stone. Its a good story, but it has a sad undertow of love, loss and family. I loved it because it really had moments that evoked emotions and made you actually care about the characters. I have also been watching some old films that I hadn't watched in a while, one of which was "Space Jam". I loved that when I was a kid and watching it again as an adult was a delight. I think I got a lot of the jokes better and I really enjoyed watching it, I used to have it on video when I was younger and I always loved watching it and probably drove people mad with it, and Titanic!
I guess the main thing that I am happy about is that the flat upstairs is once again empty (until the next colourful individual moves in) and the nightmare from the guy we had up there. So yeah, I think I am in some kind of recovery from it all, probably from the stress of that guy.
Loves
Wendy xx